WHAT ARE ACTINPUT COMPRESSION SOCKS MADE OF?

65% Polyester for bright colors
7% Cotton for durability and warmth
18% Bamboo charcoal for the antimicrobial properties
10% Spandex to make them easier to put on than any other compression socks
How to Choose Compression Socks Size?
Check our size chart below:
If you have big calf, We also have plus size compression socks.
How to put on compression socks easily?
Tips 1
For those who are new to wear compression socks:
If you've never worn compression socks or sleeves, expect it to feel tighter than you're used to. You'll also feel better than you're used to feeling at the end of the day.

Tips 2
The best way to put on compression socks:
Before pulling on your mid's or over-the-calf socks, gather the material from the top cuff to the ankle then fit the sock to your foot before attempting to pull them up over your calf. Slide your thumbs inside the cuff and slowly pull the sock up over your ankle and calf.
If they fit a bit long, simply slide your thumbs inside the cuff and walk the material down to a comfortable height and smooth out any wrinkles.

Tips 3
Wash tips:
We recommend machine washing in cold water and air drying.
HOW TO CHOOSE COMPRESSION SOCK LEVEL
 ?
If you are wearing compression socks to treat certain medical conditions, it is crucial to follow what you doctor prescribes.
A good rule of thumb to follow when choosing compression sock levels for recreational and leisure purposes is to err towards the lower-compression level range of 15 – 20 mmHg. This level of compression is usually fit for providing comfort in daily leisure activities and sports recovery. If you are engaging with more high-intensity activities or need to manage mild symptoms of discomfort, the next range of 20 – 30 mmHg is typically a safe bet.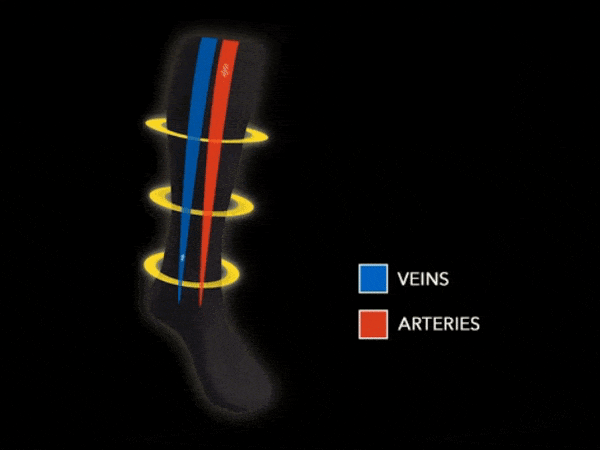 ✔️ Prevent Lymphedema And Swelling 
- Actinput Compression socks are made to help control swelling in the feet 👣, ankles and lower legs. Benefits include helping to squeeze these areas to prevent the buildup of fluid in the tissue.
✔️ Reduce Varicose Veins And Venous Insufficiency - A varicose vein is a highly visible vein located just beneath the surface of the skin. Doctors 👨‍⚕️ often recommend compression socks to improve circulation, stop varicose veins from getting worse, and reduce pain or discomfort.
✔️ Great For Pregnant women and Diabetics
- A common complaint from pregnant 🤰 women — especially as they get further along — is that their legs are constantly sore or achy. By improving circulation, compression socks can also help to ease aches and pains.
-Compression socks can help combat symptoms of the disease by reducing swelling, aches, pain 😞, and fatigue in the legs and feet. They are a viable non-invasive treatment method for diabetic patients suffering from poor circulation and nerve damage to the feet and legs.
SHIPPING INFORMATION
Once the order is approved and confirmed, we will send you a confirmation email.
After the payment is confirmed, the order cannot be cancelled or changed during this period. However, we will try our best to support your request.
Preparing Time: we need 3-7 working days to prepare your order according to our numerous orders every day. We need time to prepare the orders before shipping, and do strict quality-control tests and carefully package . This is separate from the delivery time.
Please Note: Total Delivery Time = Preparing Time + Delivery Time
Due to the effects of COVID-19, the shipment would arrive about 3-7 working days late than usual for your order. We are working on getting orders to you as soon as possible.
Ship to USA
Shipping Method
Standard Shipping in Working Days(Mon-Fri),excludes processing time.
Costs
Countries

Standard Shipping

 

7-10 Business Days

$10.00

United States

Standard Shipping

(* FREE SHIPPING ON ORDERS OF $30+)

7-10 Business Days

Free 

United States

Express Shipping

3-7 Business Days

$15.

00

United States
Shipping to countries other than the U.S.
Shipping Method
Standard Shipping in Working Days(Mon-Fri),excludes processing time.
Costs
Countries

Standard Shipping

 

20-25 Business Days

$12.00

Countries other than the U.S.

Standard Shipping

(* FREE SHIPPING ON ORDERS OF $30+)

20-25 Business Days

Free 

C

ountries other than the U.S.

Express Shipping

15-20 Business Days

$20.

00

C

ountries other than the U.S.
*Temporarily not shipping in other countries except the United States.
* Countries which requires customs duty.
Customs Duty : We have to ship orders by regular mail to the country requires Customs Duty by considering customer's benefit. Please understand customs duty is out of our control so we can not guarantee no tax fee and will not bear any tax fee.
Tariff
We will send your goods in the form of ordinary parcels to save your money. But we cannot guarantee that there will be no tariffs, if there are, you will have to pay by yourself. We ask for your understanding.
The tracking number and tracking link will be sent to your email within approximately 2-3 business days after delivery.
Estimated shipping time, which starts from the shipping date, not from the order date. Due to invalid addresses, customs clearance procedures or other reasons, it may take longer than expected.

NOTE:
* In most cases, the package will be delivered within the estimated time of arrival. However, the actual delivery date may be affected by flight arrangements, weather conditions and other external factors. Please refer to the tracking information for the most accurate delivery date.
Email: cs@actinput.com
Customer satisfaction is our most important concern, we want to give the best service to each customer who shopping on Actinput. we want to make sure we back that up with a risk-free ironclad 30-day guarantee. If your purchase of our compression socks doesn't help you get back to doing what you love, we'll find something that will or we'll give you your money back.
Furthermore, We have 24/7/365 Email Support. Please contact us if you have any questions
.