3-Pairs Copper Open-Toe Toeless Compression Socks (20-30mmHG) | Actinput
Features:
85% Nylon ; 10% Polyester ; 5% Copper Fiber

Compression Open Toe Socks - Sooverki knee high compression open toe socks are made of premium quality medical grade material, lightweight, breathable & durable, sweat-absorbent, anti-slip. we are able to create a high-quality compression sock in a great value. The socks deliver medical grade 20-30 mmgh compression and it will not irritate your skin, they are the best choice for women and men.

Unique Body Ergonomic Design - Our proprietary gradient compression zone technology gives you optimal pressure where your body needs it most. Whether you have leg cramps, aching calves, edema or swelling, shin splints, POTS or varicose these sleeves allow you to train harder, recover faster & feel stronger. They help blood circulation in your legs & reduce muscle soreness for recovery afterwards. Try & notice the improvement - you'll wish you'd found a long time ago!

Take Good Care of Your Feet/Legs - Knee High calf compression sleeves are breathable and made of durable excellent compression fabric. 85% Nylon, 15% Polyester. They are recommended by doctors and preferred by trainers, With seamless woven construction, it fit calf with no loss of compression. The open toe design helps fit feet of various shapes. Available in 2 sizes - check the sizing chart in the pictures area.

Suitable for all occasions - The sleeves have a preventive effect are suitable for runners, athletes, fitness workouts, hiking, tennis, cycling, office workers, airplane travelers, or anyone on their feet all day. Whether high or low or high impact, these enable you to warm up safely and recover quickly. The calf sleeves & socks are also perfect for everyday use especially while pregnant, for people in retail, air travel, jobs as a nurse or who require a lot of standing on your feet.

100% "PERFECT FIT" Guarantee - We are confident that you will be fully satisfied with our product! If you have any question Please contact our customer support. If you are not happy with our product, we will definitely refund you or send you a replacement at no additional cost!
Studies conducted several years ago suggested that compression socks may be effective in raising the blood pressure in people with low blood pressure (hypotension). Wearing compression socks can be beneficial in lessening or eliminating the symptoms of hypotension by preventing the pooling of blood in the legs. This ensures better and faster circulation of the blood back to the heart and lungs.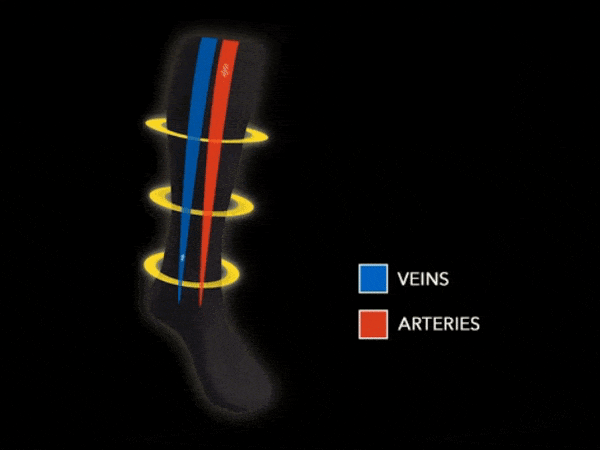 ✔️ Prevent Lymphedema And Swelling 
- Actinput Compression socks are made to help control swelling in the feet 👣, ankles and lower legs. Benefits include helping to squeeze these areas to prevent the buildup of fluid in the tissue.
✔️ Reduce Varicose Veins And Venous Insufficiency - A varicose vein is a highly visible vein located just beneath the surface of the skin. Doctors 👨‍⚕️ often recommend compression socks to improve circulation, stop varicose veins from getting worse, and reduce pain or discomfort.
✔️ Great For Pregnant women and Diabetics
- A common complaint from pregnant 🤰 women — especially as they get further along — is that their legs are constantly sore or achy. By improving circulation, compression socks can also help to ease aches and pains.
-Compression socks can help combat symptoms of the disease by reducing swelling, aches, pain 😞, and fatigue in the legs and feet. They are a viable non-invasive treatment method for diabetic patients suffering from poor circulation and nerve damage to the feet and legs.