1-Pairs Black Big Calf Compression Socks for Man and Woman (15-20 mmHG)| ACTINPUT
WHAT ARE ACTINPUT COMPRESSION SOCKS MADE OF?
65% Polyester for bright colors
7% Cotton for durability and warmth
18% Bamboo charcoal for the antimicrobial properties
10% Spandex to make them easier to put on than any other compression socks
How to Choose Compression Socks Size?
Check our size chart below:
How to put on compression socks easily?
Tips 1
For those who are new to wear compression socks:
If you've never worn compression socks or sleeves, expect it to feel tighter than you're used to. You'll also feel better than you're used to feeling at the end of the day.

Tips 2
The best way to put on compression socks:
Before pulling on your mid's or over-the-calf socks, gather the material from the top cuff to the ankle then fit the sock to your foot before attempting to pull them up over your calf. Slide your thumbs inside the cuff and slowly pull the sock up over your ankle and calf.
If they fit a bit long, simply slide your thumbs inside the cuff and walk the material down to a comfortable height and smooth out any wrinkles.

Tips 3
Wash tips:
We recommend machine washing in cold water and air drying.
HOW TO CHOOSE COMPRESSION SOCK LEVEL
 ?
If you are wearing compression socks to treat certain medical conditions, it is crucial to follow what you doctor prescribes.
A good rule of thumb to follow when choosing compression sock levels for recreational and leisure purposes is to err towards the lower-compression level range of 15 – 20 mmHg. This level of compression is usually fit for providing comfort in daily leisure activities and sports recovery. If you are engaging with more high-intensity activities or need to manage mild symptoms of discomfort, the next range of 20 – 30 mmHg is typically a safe bet.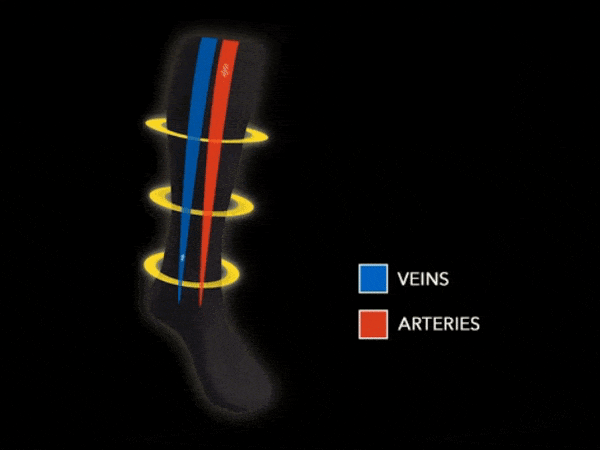 ✔️ Prevent Lymphedema And Swelling 
- Actinput Compression socks are made to help control swelling in the feet 👣, ankles and lower legs. Benefits include helping to squeeze these areas to prevent the buildup of fluid in the tissue.
✔️ Reduce Varicose Veins And Venous Insufficiency - A varicose vein is a highly visible vein located just beneath the surface of the skin. Doctors 👨‍⚕️ often recommend compression socks to improve circulation, stop varicose veins from getting worse, and reduce pain or discomfort.
✔️ Great For Pregnant women and Diabetics
- A common complaint from pregnant 🤰 women — especially as they get further along — is that their legs are constantly sore or achy. By improving circulation, compression socks can also help to ease aches and pains.
-Compression socks can help combat symptoms of the disease by reducing swelling, aches, pain 😞, and fatigue in the legs and feet. They are a viable non-invasive treatment method for diabetic patients suffering from poor circulation and nerve damage to the feet and legs.