3-Pairs Black Cool Compression Socks For Men & Women (15-20mmHG) | Actinput
Features:
Our Brother Brand: Fuelmefoot Brand Copper Compression Sosck.

85% Nylon, 15% Polyester.

✅COMPRESSION THERAPY INNOVATION - Our compression socks are so different from traditional compression socks, because we adopt the highest standard of producing professional sports socks, improving the air circulation and keeping your feet dry and comfortable all the time. Our compression socks enhance blood circulation, ensure faster restore, relieve varicose veins or swelling and protect your feet better.

✅ERGONOMIC DESIGN – Our compression socks fit closely from your toe to leg, energize your skin. They are applied integration comfortable breathable and quick-drying fabric, reduce muscle soreness, thus feel the immediate comfort. We thicker ankle fabric area, more compact compressed weave, reduce muscle vibration and fatigue to prevent sprained ankle. Use it every day, night or both.

✅PHYSICIAN DESIGNED HIGHEST QUALITY KNEE HIGH COMPRESSION SOCKS – Our compression socks are recommended by doctors and preferred by trainers. The reinforced/cushioned heel and toe support provide unmatched comfort. We carefully designed and manufactured our compression socks to provide premium support, comfort, and relief without compromising your mobility. Form fitting, lightweight, and breathable fabric features maintain joint stability regardless of activity.

✅BEST MEDICAL COMPRESSION SOCKS FOR WOMEN & MEN – An Excellent compression hose, very durable, with a fashionable look. Washable & designed with Quality Lycra Fabric, built for durability. Customers agree, the comfort is amazing. Your durable sleeves work with your routine. It is great gift to joggers, athletes, workout fanatics, office workers,parent or grandparent, runners, nurses and doctors.

✅100% RISK-FREE - We are confident that you will be fully satisfied with our product! If you have any question Please contact our customer support. If you are not happy with our product, we will definitely refund you or send you a replacement at no additional cost!
Studies conducted several years ago suggested that compression socks may be effective in raising the blood pressure in people with low blood pressure (hypotension). Wearing compression socks can be beneficial in lessening or eliminating the symptoms of hypotension by preventing the pooling of blood in the legs. This ensures better and faster circulation of the blood back to the heart and lungs.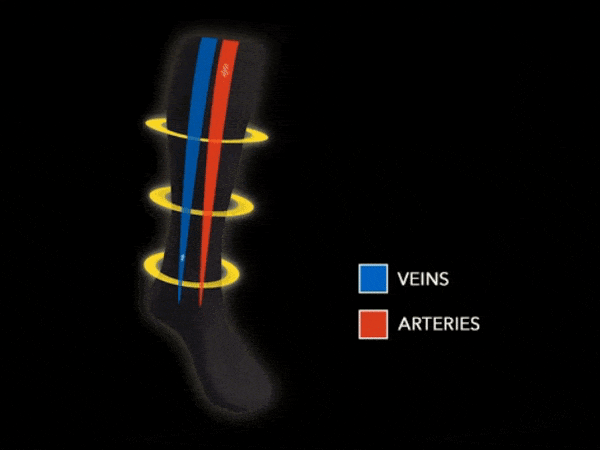 ✔️ Prevent Lymphedema And Swelling 
- Actinput Compression socks are made to help control swelling in the feet 👣, ankles and lower legs. Benefits include helping to squeeze these areas to prevent the buildup of fluid in the tissue.
✔️ Reduce Varicose Veins And Venous Insufficiency - A varicose vein is a highly visible vein located just beneath the surface of the skin. Doctors 👨‍⚕️ often recommend compression socks to improve circulation, stop varicose veins from getting worse, and reduce pain or discomfort.
✔️ Great For Pregnant women and Diabetics
- A common complaint from pregnant 🤰 women — especially as they get further along — is that their legs are constantly sore or achy. By improving circulation, compression socks can also help to ease aches and pains.
-Compression socks can help combat symptoms of the disease by reducing swelling, aches, pain 😞, and fatigue in the legs and feet. They are a viable non-invasive treatment method for diabetic patients suffering from poor circulation and nerve damage to the feet and legs.