5-Pairs Cool Athletic Ankle Low Cut Compression Socks | Actinput
Features:
85% Nylon; 8% Copper Fiber ; 7% Spandex

🏃 RUN THE EXTRA MILE 🏃 - COMPRESSION is proven to improve blood flow, move faster, react quicker and use less energy. These support ankle compression socks for women and men are designed to promote blood circulation and oxygen flow preventing cramping, fatigue, swelling and helps in muscle recovery, plantar fasciitis.

🏃 PREMIUM MATERIAL AND CAREFUL CONSTRUCTION 🏃 - Fitted, lightweight, breathable fabric. Moisture-wicking Arch and Ankle Compression to reduce fatigue, Blister Control, Lightweight, Double Welt Top, Heel/Toe Design and air-circulating ventilation blend keeps feet comfortable and dry. Prevents growth of odor-causing in the sock.

🏃 FIT FOR ATHLETIC, TRAVEL & DAILY WEAR 🏃 - Sports ankle socks fit most people, great for running, walking, exercise, hiking, traveling, outdoor activities etc. We intend to bring you the triple comfort without having to hide it at 1/3th the price of other product.

🏃 FASHION DESIGN 🏃 - Tired of boring color? Want more choices? Unique color design, Comfortable and durable! These seamless running socks mixed colors put a fun finishing touch on your outfits. No need to worry about deformation or fading. Easy for on and off, provide true fit during wear.

🏃 BUY IT WITH CONFIDENCE 🏃- Finest product and service guaranteed!!! Your satisfaction and good health is our top most priority. So shop with 100% confidence, if you are not happy with the purchase for any reasons, contact us for an exchange or 100% refund with no questions asked.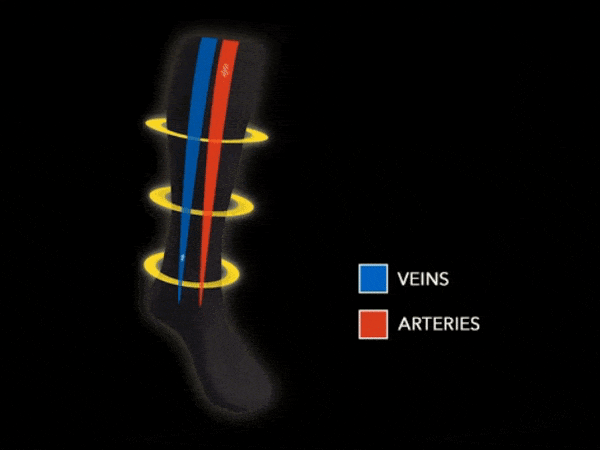 ✔️ Prevent Lymphedema And Swelling 
- Actinput Compression socks are made to help control swelling in the feet 👣, ankles and lower legs. Benefits include helping to squeeze these areas to prevent the buildup of fluid in the tissue.
✔️ Reduce Varicose Veins And Venous Insufficiency - A varicose vein is a highly visible vein located just beneath the surface of the skin. Doctors 👨‍⚕️ often recommend compression socks to improve circulation, stop varicose veins from getting worse, and reduce pain or discomfort.
✔️ Great For Pregnant women and Diabetics
- A common complaint from pregnant 🤰 women — especially as they get further along — is that their legs are constantly sore or achy. By improving circulation, compression socks can also help to ease aches and pains.
-Compression socks can help combat symptoms of the disease by reducing swelling, aches, pain 😞, and fatigue in the legs and feet. They are a viable non-invasive treatment method for diabetic patients suffering from poor circulation and nerve damage to the feet and legs.