7-Pairs Athletic Ankle Low Cut Compression Socks | Actinput
$29.99
Regular price
$49.99
Features:
7 PAIRS IN ONE PACK - 88% COMBED COTTON, 10% POLYESTER, 2% SPANDEX. High-quality material makes athletic socks so breathable, comfortable to wear all day without irritating your feet skin. Ultra Air-Permeability and moisture wicking performance keep your feet dry and odor free throughout the whole day.
MAX CUSHIONING - Max Cushioning place in areas of high impact to reduce sock and foot pain during sports or daily activity. Deep Heel Pocket- Engineered heel pocket to provide true fit during wear. Reinforced heel and toe-Reinforcement in heel and toe provide durability in high-stress areas to dramatically protect your health.
ARCH SUPPORT - Targeted arch compression engineered with just the right amount of compression to keep your arch stable and secure. Our arch support system also prevents bunching and helps keep your sock from slipping.
COMFORTABLE TO WEAR - Two sizes of socks are suitable for most people to wear. Match with any shoes, loafers, oxfords, sneakers and more! They are suitable for many scenarios such as home, casual, party, running, climbing and hiking in spring, autumn and winter.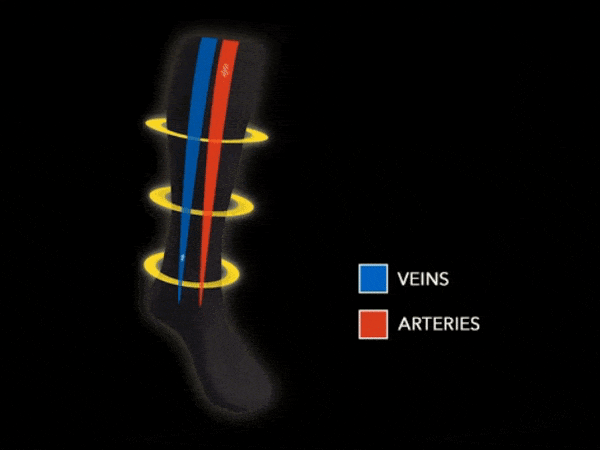 ✔️ Prevent Lymphedema And Swelling 
- Actinput Compression socks are made to help control swelling in the feet 👣, ankles and lower legs. Benefits include helping to squeeze these areas to prevent the buildup of fluid in the tissue.
✔️ Reduce Varicose Veins And Venous Insufficiency - A varicose vein is a highly visible vein located just beneath the surface of the skin. Doctors 👨‍⚕️ often recommend compression socks to improve circulation, stop varicose veins from getting worse, and reduce pain or discomfort.
✔️ Great For Pregnant women and Diabetics
- A common complaint from pregnant 🤰 women — especially as they get further along — is that their legs are constantly sore or achy. By improving circulation, compression socks can also help to ease aches and pains.
-Compression socks can help combat symptoms of the disease by reducing swelling, aches, pain 😞, and fatigue in the legs and feet. They are a viable non-invasive treatment method for diabetic patients suffering from poor circulation and nerve damage to the feet and legs.